let your imagination unwind….
TAPE THAT: Tape Art Collective Berlin
Inspired by the possibility to create something new out of an everyday object, TAPE THAT mostly works with tape as a medium since 2011. With roots in the urban art movement, their works range from complex and colourful tape and light installations to minimalist black and white murals. Their tape artworks can be found in a variety of places, such as underground nightclubs, abandoned buildings, showrooms and galleries. While focused on Berlin, Tape That is active in many other cities, nationally and internationally.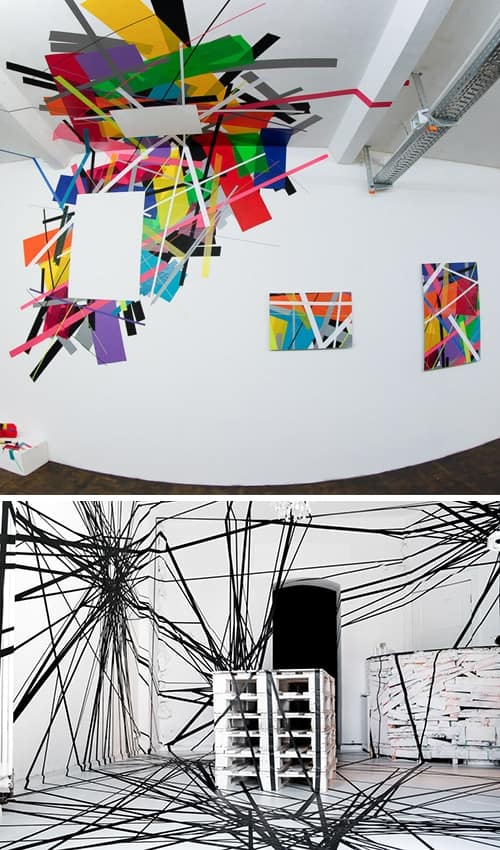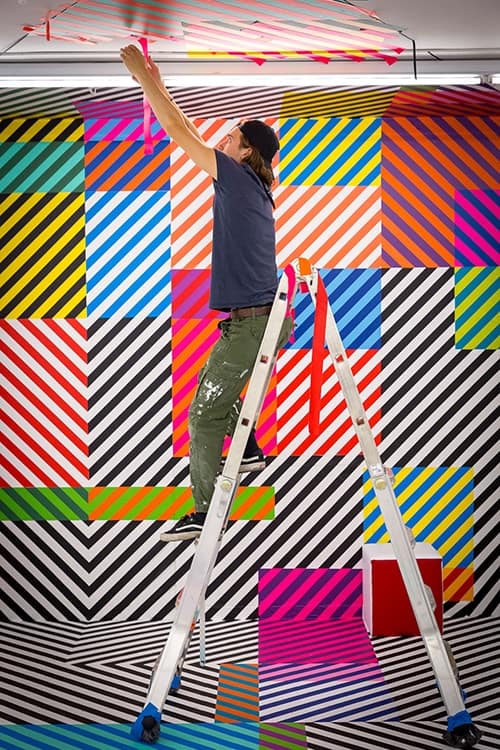 Max Zorn – Tape Artist
Max Zorn emerged as an urban artist who hung art on street lamps. Based in Amsterdam Max uses brown packaging tape as his medium and a scalpel as his brush. Layer upon layer of tape are applied to acrylic glass and when lit from behind, reveal contrast and warmth.
George Wark
We are proud to support tape artists, especially students and are very excited to be working with George Wark, who has produced an amazing piece of original art in our office.
George is a fine art student at Norwich University of the Arts. He is an abstract artist and a big part of what he does involves using tape to create work. His large wall tape drawings are very striking and have raised a lot of interest and praise from those who have seen them.
Taped Metal Canvas
Dominic Fontana's journey as a tape artist began in San Francisco, following many years as a graffiti artist and sheet metal worker. He was drawn to tape, stickers, and anything adhesive because of the range of colours, shades, and shapes. Combining his two skills Taped Metal Canvas was born!
Vitali Kraft
Vitali Kraft is a German tape artist with a very personal style, he is defined as a "tape artist with a sticky attitude and a strange point of view". He was inspired by tape artist El Bocho and loving popart, grafitti and constructivism started to try for himself in 2011.
He says "I hate to eat honey and jelly. Not because of the taste but because of the mess. The same with painting, tape is clean and it has sharp edges and much contrast. People love contrast, even if they say they dont, thrust me, they do."
Theoda Solms Iles – Interior Stylist
Theoda Solms Iles is an Interior Stylist with nearly 20 years' experience in the interiors world. She is passionate about beautiful things and gets excited about soft and tactile fabrics. She also has a special love for colour and is not afraid to use it in interiors and finds it exciting to see how it lifts a room or updates a design, as you can see here.
Paula Young – Amateur Artist
Paula Young is a talented local artist who creates with a variety of different mediums. This image was created using a mix of our Pro Gaff matt cloth – RS161 & RS127 – watercolour and pencil.
Sculptape®
Sculptape® is an amazing new product from the cre8® range of adhesive tapes.
Create fantastic lightweight heat resistant sculptures. Simple to use, ideal for bringing your ideas to life. Fun, easy and mess free.
Cloth Tape Costumes
These amazing tape outfits were made using our cloth tapes RS161 and RS127. These tapes are perfect because they are flexible, durable, breathable and adhere perfectly to fabric but don't leave any residue if removed.
The suits were created by sticking tape to existing clothes but the dress was done in a more conventional way, using a dress pattern and sticking the tape to a lining and cutting as if it was fabric.
For a full step-by-step guide, have a look at WikiHow 'How to make a duct tape dress'.
Tape flowers
What's more beautiful and convenient than a flower made out of tape? There's no dirt, no thorns and no need to care for it. If you want to liven up your boring old pens and give them a bit of pizazz, why not make several tape flowers to use as an impressive bouquet or make just one for a special friend or loved one?
Any of the tapes in our cre8 range are great for creating these but we would recommend using 50mm width.
Have a look at WikiHow for an easy to use step-by-step guide.
Manshu Xu – Textiles Artist
Manshu Xu is a talented, final year textile student studying at Central Saint Martins. This project is based on reusable personal storage packaging and uses hazard warning tape and highlighter tape with mixed mediums.